Viking Hairstyles for Men
The Viking warriors and people existed years ago. Yes, they were very ancient. For sure, however, they have been ahead of us in some aspects, especially the hairstyles. Usually, the Vikings were known as the brutal and blood-thirsty people. This has become a heated debate though. Anyway, what BaviPower is going to discuss today is the Viking hairstyles which we can learn and adapt to our styles.
1. The Ragnar Hairstyle
Ragnar Lodbrok or Lothbrok was a legendary Viking hero. This famous depiction of Ragnar hairstyle in TV series "Vikings" is a growing long hair with the beard. This hairstyle proves that shaved styles for men hair were just as awesome as it sounds. If you are quite muscular and already have a warrior spirit, this hairstyle is highly recommended.
Ragnar Hairstyle in "Vikings"
However, to possess this cool hairstyle, you need to be patient with the hair growth process. One tattoo like Ragnar or just temporary tattoo with this hairstyle will provide you a fiercer and more attractive looking. 
(Ragnar Hairstyle with tattoo in "Vikings")
 2. The Bjorn Hairstyle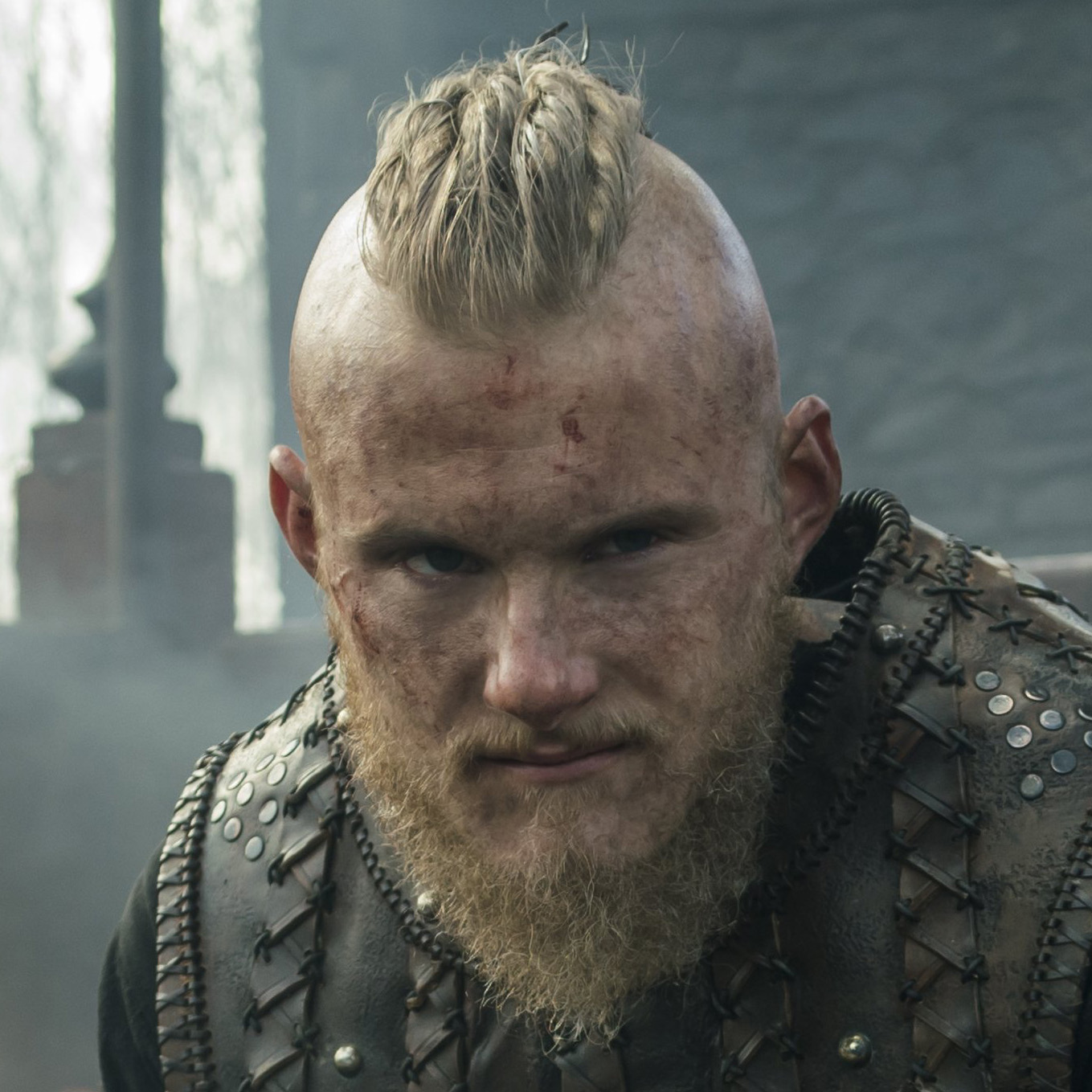 (Bjorn Hairstyle in "Vikings")
Another awesome Viking hairstyle was the Bjorn Hairstyle that "Vikings" series depicted. Being the son of legend Ragnar, Bjorn shaved sides of his hair. This hairstyle does not require so much time for hair growth process. To be honest, the Bjorn shaved top braided hair will definitely put you in the spotlight.

Bjorn Hairstyle in "Vikings"
3. Crew Cut Hairstyle
What if you are in love with the Viking hairstyle but you have no patience for hair growth and maintenance that comes after? We suggest you combine the beard with a far easier haircut like the crew cut. If you are still unsatisfied, you then should try to mix your crew cut with the undercut.
Ragnar Lothbrok Short Hairstyle or Crew Haircut in "Vikings"
4. Viking Twisted Hairstyle
All you need to get this hairstyle is the patience and some skill to braid your top hair. If you want to try this hairstyle, we recommend you also shave your sides of hair. Take a look at this amazing hairstyle.
Viking twisted hairstyle in "Vikings"
5. Viking Beard Style
Another way to possess the Viking appearance is to grow your facial hair and start fashioning it. As your beard is long enough, you can braid it and style it with some Viking decorations like the Viking Rune Beads. Undeniably, this Viking beard style is the best way to express your wild Viking spirit.
(Viking beard style with a bead in "Vikings")
Viking Rune Beads
Conclusion
Overall, besides wearing Viking jewelry or piercing Viking tattoos, having Viking hairstyle is a cool way to express your love and admiration to the Vikings. Whether you are in love with the warrior spirit of the Vikings or just in love with the awesome and rugged Viking appearance, our mentioned recommendations will definitely meet your tastes.